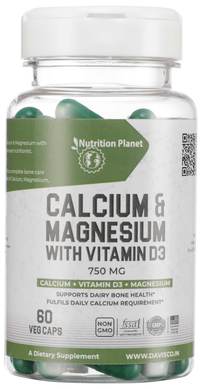 Use of Nutrition Planet Calcium, Magnesium with Vitamin D3: - It is a complete supplement to improve bone mass and also helps in preventing bone loss. It contains Calcium, Magnesium, Vitamin D3, Vitamin C, Vitamin K1, and Vitamin B6 which helps you in gaining bigger and stronger bones.

Benefits: -
-> Calcium + Vitamin D3 + Magnesium
-> Great Supplement for bone health
-> Maintains and Increases Bone Mass
-> Completes Daily requirement for Calcium
-> Easy to digest

Age limit: -Suitable for all ages

Dosage: -Take one serving(2 capsules) once a day or as recommended by the physician or licensed nutritionist.