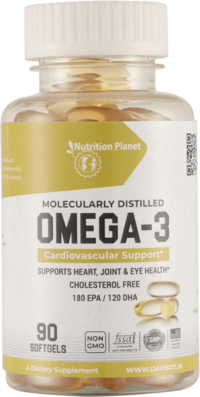 Nutrition Planet Omega-3 for Recovery: Post-workout recovery is most important for any individual. Omega-3 plays a vital role in decreasing DOMS (delayed-onset muscle soreness) and inflammation from exercise. This makes Omega-3 a powerful muscle recovery weapon from intense workouts.

Nutrition Planet Omega-3 for Fat Loss: Omega-3 suppresses hunger and keeps fuller for a longer duration, which leads to reduced weight.

Nutrition Planet Omega-3 is a cost-effective source to supplement yourself with the best quality Omega-3.

Other Nutrition Planet Omega-3 benefits are:

CARDIOVASCULAR HEALTH
COGNITIVE HEALTH
NERVOUS SYSTEM HEALTH
CELL PRODUCTION
JOINT HEALTH
Dosage: Consume one serving of Nutrition Planet Omega-3 twice daily with food or as directed by a physician or licensed nutritionist.