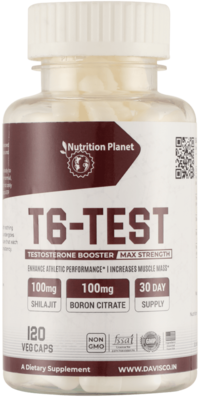 > Powerful formula to improve testosterone & ATP levels
> Improves strength
> Results can be seen in 7 days

T6-Test contains powerful ingredients to trigger free testosterone and deliver great testosterone to estradiol ratio.

T6-Test also helps in increasing ATP levels.

The key ingredients of T6-Test are Zinc, Shilajit Extract, Fenugreek Extract, Tribulus Extract, Boron Citrate, and Broccoli Powder. These six powerful ingredients guarantee an increase in testosterone levels, which results in growth of muscles. T6-Test is the result of years of research and experience.

T6-Test can be used by athletes, fitness enthusiasts, bodybuilders or any individual looking for a boost in testosterone levels.

All the T6-Test ingredients are disclosed on the bottle with no proprietary blend. Our strict quality control department and third-party testing assure that each bottle gives you what is mentioned on the label.
Dosage: Take 2 capsules with a glass of water two times daily or as directed by a physician or licensed nutritionist. Do not exceed 4 capsules in a 24hr period.